Moms are a tough audience.  They come to museums in large numbers, and with certain expectations.
Yet when we analyze the data from our major studies of museum visitors, we find that while moms in their thirties and forties are, overall, the largest audience segment visiting museums, we also find that they are the least satisfied segment as well.
Most likely to visit.  Least satisfied.  Let's step back and consider this.
Museum-visitor moms in their thirties and forties are primarily parents of pre-school to middle-school age children.  They are very well educated, when compared to the general population, and thus tended to postpone child-rearing.  They are also relatively affluent when compared to the general population. 
But despite their relative affluence, these moms tend to be highly budget-minded.  They tend to be more likely to join to pay for services they (and their families) have received, or to save money, than they are to contribute for more philanthropic reasons, such as to improve the museum. 
In our studies, moms are also the least satisfied audience segment, as illustrated by the graph below: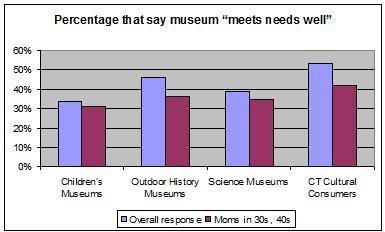 Yet they visit museums a lot, visiting their local museums multiple times a year.  Why?  Primary reasons given are family time, for learning opportunities for their children, and because their children like to visit. 
 
What is missing here? 
 
Mom's interests.
Overwhelmingly, when we look at the responses of moms in all of our studies, it has become clear that the primary drivers for museum visitation are the education, entertainment, and engagement of her children.  In the written-in comments from moms, moms rarely use words like "I" or "me," but instead use "we" and "my family."  Mom's interests, and engagement, tend not to be on the agenda. 
 
Moms are coming in large numbers, yet they are the most dissatisfied audience of all.  What gives?
When we began to analyze the responses of moms in our recent science museums and Connecticut surveys it became clear that there were two types of moms responding.  One group of moms who believe that visiting museums is an important thing to do for their children.  The other group are moms who believe that too, but these moms are also curious, omnivorous cultural consumers who love going to museums.  And when we compared the responses from these two different groups of moms, we found huge differences in their attitudes and their visitation patterns at museums.
The curious moms overwhelmingly fall into the category we call "Museum Advocates."  They love museums and value what they have to offer to them, their children, and their communities.  These moms tend to be more likely to support the museum for philanthropic reasons than the other moms, are much more positive about the museum, and are 50% more likely to say that their needs are met.  Finally, these moms visit a much wider variety of museums with their children, from science museums to art museums to history-based museums, etc.
The moms who visit primarily for their children overwhelmingly fall into the category we call "Core Visitors."  These moms tend to choose from a smaller variety of museums that moms perceive to be more age-appropriate for their children, namely museums that are highly hands-on, such as science centers and children's museums.  These moms tend to cycle in and cycle out of museums based on that perceived age appropriateness, and some types of museums are visited rarely, if at all. 
Because the focus of these moms is so much on the needs of their children, it seems as if Core Visitor moms make themselves second class visitors at museums.  It is not something that museums do to moms, but something they do to themselves.  And since Core Visitor moms are less likely to be engaged with the museum themselves, the fear is that their lack of engagement, and interest, subconsciously rubs off on their children, who then stop asking to come to the museum, breaking the museum-going habit.  And that is something we cannot afford. 
Instead, museums have a tough nut to crack:  engaging moms by layering on content for her in a way that clearly does not detract from the engagement of her children.
This is a topic that we are obsessing about at Reach Advisors.  When we analyze the two different types of moms, there are no significant demographic differences.  They have similar education levels, education levels, etc.  Yet their engagement levels, and their attitudes and visitation patterns, are very different. 
Of the handful of differences that we noticed, there is one we will flag in this email (with more to come in future discussions and research).  While almost all moms tell us that hands-on activities are primary attractions for their visits, the curious, engaged moms are much more likely to also mention narrative and story-telling, saying things like "telling with a good story is key."  That is a path of inquiry we are anxious to explore further as we continue our research to discover more about the differences in these two groups of moms, and the implications for developing more Museum Advocates.
As we plan additional research on moms, and Museum Advocates, we would love to hear from you what questions this data raises.  What do you want to know more about?  Is there anything you disagree with?  To share your thoughts and questions click on "comments," below. 
Data from Connecticut comes from the Reach Advisors study of Connecticut Cultural Consumers,
funded by the Connecticut Humanities Council and Connecticut Landmarks.