We have been asked to share some of our previous research articles more broadly, and this blog is the perfect way to do so. We will continue to archive our e-newsletters articles here so that you have the opportunity to share them, and comment back to us!


This month we continue our series on family visitation at museums by focusing on historic sites and history museums. This research, based on a national audience survey of 5,500 museum-going families, was presented by Reach Advisors at the Association of Children's Museums conference this spring. In this survey, we asked what other types of museums parents and grandparents like to visit with their families, which gave us some insight on why they visit other museums, when they visit in the life stage of their family, and how museum-going behavior shifts among different racial and socio-economic groups.
In part one of this series we investigated family museum visitation at science-based museums (e.g., science centers, natural history museums, and nature centers), and in September we will examine art museums, botanical gardens, and arboretums.
History Museums and Historic Sites: The Gap with Families

First, the bad news. History museums and historic sites showed the lowest popularity among the eight types of museums measured in this survey, with only 31% visiting historic sites and 23% visiting history museums. Additionally, for all demographic groups, history museums are the least popular. Historic sites showed more variance in this measure, sometimes rising as high as the fifth most popular, but the majority of the time they ranked seventh. Simply put, families are choosing to visit other museum types over historic sites and history museums. But there are some silver linings and promising trends within the data.

Family Life Cycle

Families love to visit museums, and the data quickly confirmed that the age of the oldest child was the principal factor in what types of museums families visit. But when children are very young, families are choosing other types of museums over historic sites and history museums.

Visitation at history-based museums remains stubbornly low . . . until the oldest child enters elementary school when visitation rises dramatically (see graph below). History-based museums had the greatest rise in visitation during the family life cycle of all the museum types, doubling their attendance rate. While history museums remain the least popular in families where the oldest child is eight or older, it almost catches up to many of the other types of museums, and historic sites rise to fifth most popular overall in this age group.
Grandparents
Overall, grandparents were more likely than parents to take children to other types of museums, but the difference in visitation between these groups for history-based museums was stunning. Grandparents were far, far more likely to visit history-based museums than parents - by a margin of nearly 20 percentage points - making them a terrific target audience, and membership prospect, for these types of museums.

Race Matters
Although history-based museums were the least popular types of museums among families of all races, the likelihood of a visit varied quite a bit among racial groups responding. While 91% of the survey respondents were Caucasian (who therefore mirror the topline averages), with nearly 5500 total respondents, we were able to obtain statistically significant data on African Americans, Asian Americans, and Hispanics.
Historic sites were most popular with Caucasians, with nearly a third visiting them. Additionally, over a quarter Hispanics and African Americans visit historic sites. Asian Americans are the least likely to visit, with just over a fifth reporting attendance (see graph below).


History museums had less attendance than historic sites, but African American and Hispanic museum-goers are the most likely to visit, with just over a quarter visiting. Nearly a quarter of Caucasians visit history museums, while not even a fifth of Asian Americans survey respondents visit.
The relatively low attendance of Asian Americans at history-based museums initially surprised us. But when considering the geographic distribution of Asian Americans, which is heavier in the West Coast than elsewhere in the country, the discrepancy became more clear since that region has a lower density of history-based museums than other regions of the country.
Although we did not quite have statistically significant data on American Indians, the responses of this racial group were intriguing and may begin to shed light on their museum visitation patterns. While historic sites and history museums were still the least popular types of museums to visit, American Indians visited them in far greater numbers than other racial groups, with 46% visiting historic sites and 36% visiting history museums. Further research may indicate a higher degree of engagement with these types of museums among American Indians.

Education and Income
We typically find that museum visitation increases with education and income. But this was not true for history-based museums. Visitation actually peaked when parents only had some college (see graph below).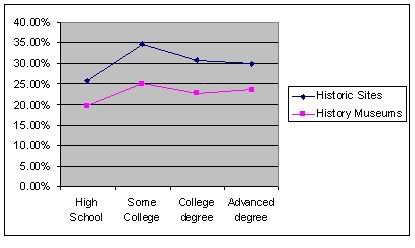 Similarly, visitation by those of lower income was higher than for those of higher income, roughly mirroring the visitation trend by education. It was a pleasant surprise that history-based museums have lower perceived barriers of entry for those with less education and income.
Other Findings
Overall, the gender of the respondent was not a significant factor in this survey. But when it came to visitation at history museums, it was significant. Males were much more likely to take their families to history museums than females, 34% vs. 22%. Additionally, males were slightly more likely to visit historic sites. Although history-based museums were still the least popular for both genders, it seems that history-based museums have more work to do in attracting women and their families.
Why Is This Relevant?
Clearly, history-based museums are struggling to reach young family audiences. Although written-in comments did not shed light on why they tend not to visit, some comments provided an indication that helps us determine what is appealing about history-based museums:
"We especially enjoy live performances and demonstrations at many museums, especially living history sites."

"It broadens their experiences and can bring history to life. It's one thing to read about it in a book but, another to see, touch, feel and experience it."
It seems to all go back to creating an authentic, hands-on, active experience for families. Historic sites, where history really happened, are uniquely positioned to create those authentic experiences in a way that many other types of museums simply cannot. History museums also possess one-of-a-kind objects that can fascinate and inspire when presented in an active, participatory way. Continued work to create and promote those active experiences will help history-based museums better serve young family audiences.
Finally, families are clearly waiting to visit history-based museum until their oldest child is in school, and likely starting to learn basic history lessons. Age appropriateness seems to be the primary factor in making decisions about visiting museums, and history-based museums will likely find that concentrating their efforts on attracting families with grade-school children will reap greater rewards than trying to attract families with younger children.
To learn more
This short article only scratches the surface of the research we conducted on this or related topics. Please feel free to comment below with any additional questions or thoughts. Also, look for the September issue to explore family visitation patterns at art museums, botanical gardens, and arboretums.